With Spring rapidly approaching, I am getting excited about the idea of shopping for new items that are popping with colors.  New girly dresses, sexy going out wear, nice jeans, cute flats, pretty jackets, oh my!  I already gushed about some Spring Coach must haves in this post, but of course a girl can't build an entire wardrobe on handbags (trust me, I've tried).
I feel like I haven't shopped in ages, but I was checking out http://www.youngfatandfabulous.com/ for the first time and it just got me craving the sweet sensation of money flowing from my account and bags piling up on my bed.  The fact that she looks great and isn't a stick was also nice to see 😀  I've been perusing forever21.com , nyandcompany, and payless for possible purchases, as well as wishing that H & M would get an online presence for the US.  Here are some spring items that struck my fancy:
For going out, this dress would be oh so fun!  Paired with a cute silver clutch (who am I kidding, I don't do clutches because I'd leave it there the second that I got a drink in me), it would be so pretty and fab:
This lovely flower shirt is soft and feminine, and I'd like it for my meager t-shirt collection: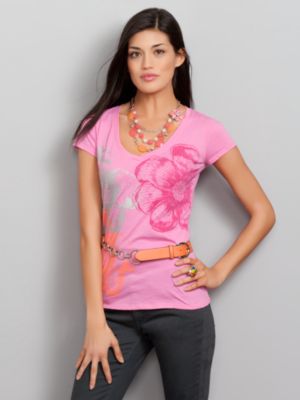 For a warm pop of color, this coral dress would be light and simple:
This dress would be totally cute for work:
Sexy/fun forever 21 skirts:  click on the pics below to go to purchase pages
Gold pocket jeans
Now for shoes!
Coats/Jackets/Sweaters
Happy Spring Shopping!!  I'll update with photos if I get any of the items.  What are some your spring must haves??